Jakarta | 

Thu, July 12, 2018

 

| 01:10 pm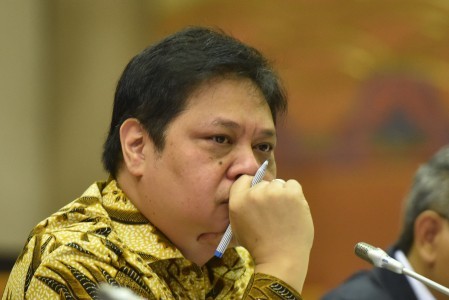 Industry Minister Airlangga Hartarto (Antara/Wahyu Putro)
The Trade Industry is getting an additional Rp 2.57 trillion (US$178 million) after the House Commission VI overseeing industry affairs agreed to financially support the development of Industry 4.0.
The funds will be used to help adjust five industry segments — textile, garment, automotive, electronics and chemical — to face the so-called fourth industrial revolution triggered by the growing digital economy, Industry Minister Airlangga Hartarto said as reported by tempo.co on Wednesday.
This brings the ministry's total budget to Rp 5.3 trillion.
The Trade Ministry has prepared several programs that would be funded by the additional budget, including the development of 100 food and beverage companies and improving the competitiveness of their food products.
The funds will also be used to help chemical, textile and diversified businesses improve their supply chain of raw materials, particularly through the establishment of a pilot project for plastic waste recycling and improving the quality of medical products.
Meanwhile, the metal, machinery, transportation and electronics industries will receive a boost with the smooth supply of raw materials and the establishment of a national standard.
Other programs will aim to improve the quality of 600 products manufactured by small and medium enterprises (SMEs) through better product designs, a smooth supply of raw materials and improved manufacturing facilities, as well training for employees. (bbn)
source: http://www.thejakartapost.com/news/2018/07/12/house-approves-rp-2-57t-budget-for-industry-4-0.html